Sometimes you can see some people in a deep, consuming yet peacefully silent introspective mode, effectively altering their surroundings as well. It feels as if the atmosphere is highly stimulated in the mere presence of the individual. This rare sight is witness of dialogue with The Higher Being… In simple words, an interaction with the Nature.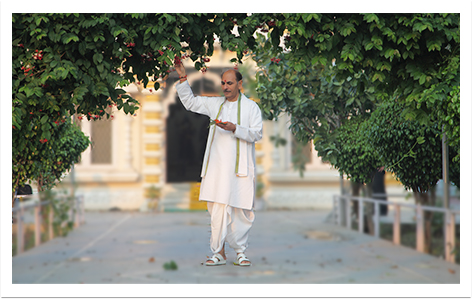 His Holiness Sudhanshu Ji Maharaj's tryst with Mother Nature started ever since his birth in a small village of Haripur, situated strategically in the lush laps of The Shivalik Ranges in The Great Himalayas. It is blessed to be in a region with rivers Ganga and Yamuna flowing from different directions and poring nature's bounty in it. His Gurukul training was also in Himalayan terrain, enveloped in scenic beauty. Young Maharaj Shri had a deep and seminal connection with the Nature.
Even as a child, he would spend hours in solitude in midst of dense forest. The child was brave and never got scared of the animals and sprawling trees. In fact, young Yash Pal greatly cared for the plants as well as animals. He had a lot of friends in trees, flowers, leaves, animals and birds and immensely loved spending time and interacting with them.
In his youth, and on the path of meditation and self attainment also, His Holiness chose the Himalayas as his safe haven, where he was sure to find peace of mind and great answers. In the dense caves of Himalayas covered with thick flora and amidst varieties of species of fauna, Maharaj Shri found the nectar that ultimately quenched his thirst for knowledge and enlightened him to The Absolute. He attained the Sainthood surrounded by Nature – alluringly simple yet beautifully attractive. This was another deep and soulful connection with Mother Nature.
His Holiness has a deep compassion for animals and birds. His compassion forms an inexplicable and enigmatic aura surrounding him that animals and birds gravitate towards him as if he were a magnet. He too, shows boundless love and care for all, whether it be the cows, or rabbits, or peacocks, or ducks, or any other creature of fauna.
All the Ashrams of Vishwa Jagriti Mission are strategically planned and constructed, to reflect the love for nature and compassion for all creatures that Shri Sudhanshu Ji Maharaj has. All the Ashrams are placed in a locale of lush greenery, having all five elements of nature and people are encouraged to plant more and more trees. All the Ashrams also have a huge Gaushala that shelters and tends to a lot of cows. A water body is always present to give a natural habitat to water creatures. Maharaj Shri personally sees to it that these features remain constant and no concession is made what-so-ever. No day is complete without him visiting the Gaushala at the Anand Dham Ashram, Delhi, which is also the headquarters of the Vishwa Jagriti Mission. At the Gaushala, Maharj Shri personally nurtures and feeds the cows. He takes active involvement in every aspect of their lives. The connection that he has established with these mute creatures can be seen when he is on extensive tours. Even the animals, especially the cows miss his divine presence and calm aura.
Love is just another simple word. But there is an inexorably inexplicable and mystifying thread that connects His Holiness with mother nature that cannot be explained, but can only be felt. Anybody who feels the bond also experiences an undeniable bliss.